HomeQuest Custom Homes are built to meet the individual tastes and requirements of demanding clients. Our homes are nothing short of perfection!
HomeQuest's earned a reputation due to our unyielding commitment to high quality construction and craftsmanship.
Our extensive network and market intelligence helps us to offer a wide range of finishes, interiors, cabinetry and other options that complement the design while being functional at the same time.

It is your dream, and we are the enablers bringing it to reality. Our team will work with you or your architect to understand every single detail you have in mind. We will build the perfect home based on your taste, within your budget.
Home Quest has the experience to help you with the engineering, soil testing, site prep work, septic system plan that is required before construction begins.
We are on site for planning, prep work, and construction. Our team will manage every aspect of the project, from providing you with status reports, to managing the schedule and budget, so that there are no surprises.
Highest Quality Construction Standards
All our subcontractors are craftsmen. We hire only the best contractors to work on your home.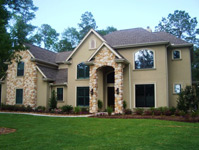 Our team will meet you periodically, both on site to review the progress of construction and off site to get your opinion. We provide you with a cost summary at each phase.
You won't have to worry about the final touch-ups or open tools lying around the house. We attend to everything before closing.
Your home may be completed, but our customer service is not. We will follow-up to make sure you are satisfied after moving in. We will be available to address any issues that may arise while you are settling into your dream home.
We listen to your needs and are always available to answer questions or address concerns. Get started today.
We take each project as a unique opportunity to create a home that will match and enhance your lifestyle.
Here is a general outline for the process. We are happy to walk you through each step and provide assistance. The process can seem overwhelming, but we can break it down step by step and it becomes a much easier task.
We strongly recommend you speak with a lender before you start designing your home. In many cases people spend time and money designing the perfect home just to find it is outside their budget. It is best to establish your budget then design your home around that number. It will save you time and money.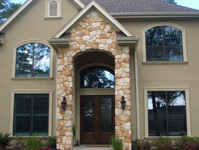 HomeQuest Custom Homes understands most people have busy schedules and family activities to keep up with and sometimes there is not enough time to take on a large project such as building a new home. So we have come up with a program called "One Stop" this is where we take care of all the steps necessary to build a new home and even more, here is what we do:
We want to make the process as easy for you as possible and assist with all the steps in building a new home. This program also works well with our out of town client's. So if you want it all done for you we are here to help, give us a call today.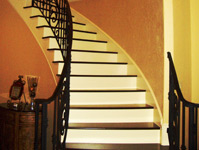 HomeQuest Custom Homes offers a unique combination of creative flair, impeccable workmanship, exceptional service, and custom features that is far from ordinary. We offer home construction services to meet individual needs and can build your home on your lot. And when you want to build a home on your own home site, we have the experience you need to make sure the process smooth and hassle-free.
There are many things to consider when building on your own home site: lot clearing, well and septic services, street paving, permit acquisition, and much more. We understand what needs to be done and are ready to help you make this process simple and enjoyable. If you haven't purchased your home site yet, there are things you should consider first, such as: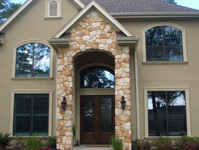 Whether you are just starting to think about building on your home site, or if you have already purchased your site and are ready to build home on your lot, now is the time to call HomeQuest Custom Homes.